Invisalign – Webster, MA
Removable Trays Give You Freedom
Traditional braces force you to learn how to accommodate metal brackets and other hardware, which means you need to change your oral care routine and your diet. If your case is not as severe, Invisalign's clear aligner series is ideal for those looking for a bit more freedom in their daily routine. It's one of the most trusted and customizable options out there today, so don't wait to call Simply Orthodontics Webster to see if you qualify for treatment, using Invisalign in Webster, MA!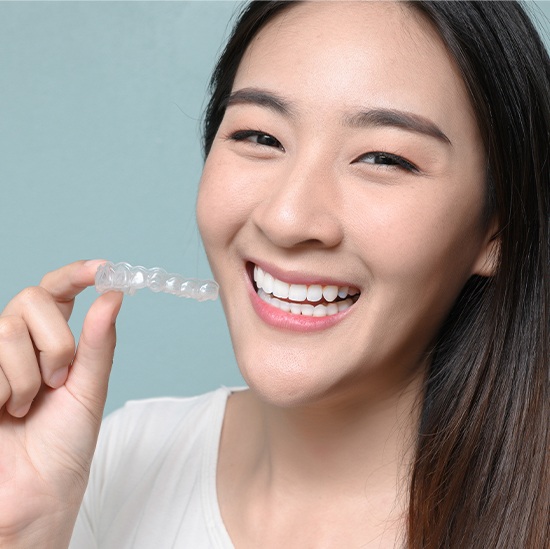 How Does the Treatment Process Work?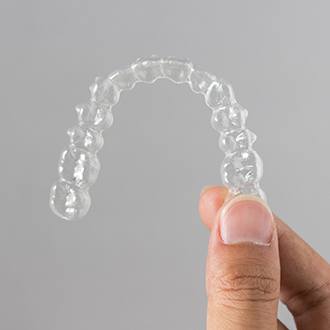 To shift teeth, patients wear a series of trays over the course of several months. Each pair is meant to represent a new stage of your treatment. By wearing the trays for about 22 hours per day, your teeth will gently shift into their new straighter position. Keep in mind that you'll need to wear a retainer after you complete your Invisalign series to prevent potential relapses from occurring and keep your teeth straight. Furthermore, you won't have to visit the orthodontic office as often for checkups on treatment since the entire series is made from the start.
What Can I Expect During Treatment?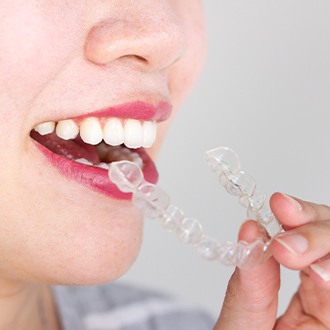 It is imperative that you wear the aligners for a specific period of time each day. This is a minimum of 20 hours, but it's recommended to wear them for at least 22 hours to maximize results. Wearing them is what causes them to shift accordingly and reach a healthier and straighter position. Since you can remove the aligner, you can eat the foods you enjoy and you won't have to relearn your oral care habits like you do for fixed orthodontics. On top of this, you need to regularly clean the aligners to keep them transparent and keep them in their dedicated case when not in use.
Am I Eligible for Invisalign?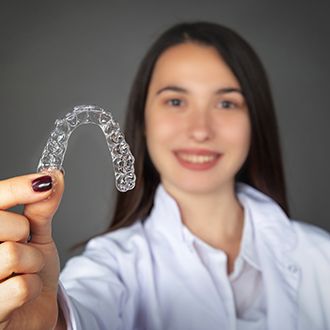 If you have a severe case of misalignment or badly uneven bite, Invisalign treatment is likely not for you. Additionally, those with crooked back teeth will not see results that are as effective as traditional braces. Finally, you should only pursue treatment if your permanent teeth are erupted, so children will likely not be eligible. However, it can be used for teenagers, as their teeth are no longer growing and developing. If you struggle to comply with their use and cannot wear them for 22 hours per day, traditional methods might be better.
Invisalign FAQs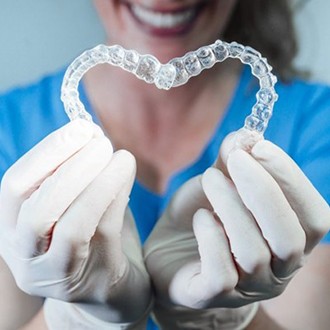 Everyone wants to have a beautiful, straight smile. After all, people with well-aligned teeth are often perceived as more attractive and successful. Although not everyone is born with a straight set of teeth, you can achieve those results with Invisalign. If you're unfamiliar with Invisalign, it can seem confusing at first. To make things easier for you, we've answered some frequently asked questions that we get about Invisalign.
How Long Will Invisalign Treatment Take?
The duration of your treatment will depend on several factors, such as how misaligned your teeth are and how often you wear your trays. Your age can also affect the speed of your treatment. It generally takes longer for older adults than it does for younger folks, since the teeth are more firmly set in the jaw.
We can lay out a personalized treatment timeline for you at your consultation. Most Invisalign treatments take between 12 and 18 months, but you should start seeing results long before then.
Can I Get Invisalign If I've Already Had Braces?
Yes! Many patients who formerly had braces have noticed their teeth shifting back, especially if they didn't wear their retainer. If this is the case, chances are you'd make a great candidate for Invisalign. In fact, it might even be easier to straighten your teeth with Invisalign after you've already had braces. The braces probably took care of the most significant orthodontic issues. Your treatment might not take as long as it would have if you'd never worn braces.
Can I Get Invisalign If I Have Crowns, Bridges, or Other Dental Work?
It depends. The aligners function by shifting one tooth at a time. Since dental bridges are designed to connect several teeth together, Invisalign may not be effective.
As for restorations that only affect a single tooth, like dental crowns or veneers, there is a chance that Invisalign may be suitable for you. Of course, you'll have to schedule a consultation with us first. After thoroughly examining your mouth, we can determine whether you're a good Invisalign candidate.
How Much Does Invisalign Cost?
More often than not, you can expect Invisalign to cost about the same as traditional braces. Much like the timeline of your treatment, the price you'll pay is typically influenced by the complexity of your case and your dedication to wearing the aligners as often as you should be.
At Simply Orthodontics, we are in-network with a wide variety of dental insurance plans, including Humana, Cigna PPO, and Delta Dental MA PPO. We also offer affordable financing through our partnership with CareCredit.