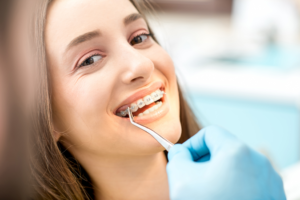 Braces are perhaps the most iconic and popular orthodontic treatment around, and these days, countless patients continue to turn toward these innovative metal brackets and wires to achieve straighter, healthier, and more aesthetically pleasing smiles. But did you know that for some patients, the orthodontic journey doesn't end after braces? Sometimes, future treatment is needed to fully achieve your smile goals. Here's a closer look at why patients sometimes need to undergo a second round of braces and some of the benefits of doing so.
Why Might I Need Braces a Second Time?
The most common reason for needing braces a second time is orthodontic relapse; this refers to when the teeth begin reverting to their original, incorrect positions following orthodontic treatment. This can occur for a variety of reasons, but it often happens when patients don't regularly wear their retainer following treatment.
Age is another common explanation; much like how your vision, hearing, and other aspects of your physical body change as you grow older, the structures inside of your mouth are subject to change too. The eruption of the wisdom teeth is another cause for teeth becoming misaligned following orthodontics, though this can be avoided via wisdom tooth surgery. In some cases, physical trauma to the face can cause orthodontic relapse, as well as trauma caused by chronically poor oral hygiene.
Are There Benefits to Wearing Braces Twice?
It's important to mention that needing to wear braces for a second time doesn't indicate a failure on your part; sometimes teeth are stubborn, and for whatever reason, they don't always move as desired. You should view your second round of braces as an opportunity to further refine and fine-tune your smile until it looks exactly as you desire. With that in mind, there are also several benefits to undergoing orthodontic treatment again, including:
Since bite issues and dental misalignment can interfere with your ability to talk and eat, you're ensuring a fully functional set of teeth.
Properly aligned teeth are less likely to experience dental issues that might worsen and cause serious health problems.
If you've had braces in the past, you know what to expect the second time around, meaning you'll likely experience fewer difficulties or complications.
You're ensuring that your smile achieves the beautiful outcome you've wanted this whole time!
About the Practice
Our team here at Simply Orthodontics Webster is excited to provide patients and families in Webster with an unrivaled level of orthodontic care! Under the talented leadership of Dr. Sam Alkhoury, we proudly offer a wide range of orthodontic services for patients of all ages. If you have any questions about the blog or believe that you might benefit from another round of orthodontic treatment, don't hesitate to contact us today for additional information or assistance: (508) 943-2100.