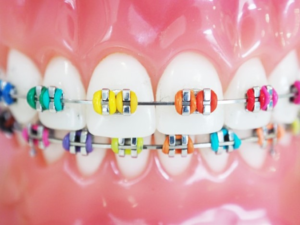 Even though they're among the most tried-and-true orthodontic solutions, traditional braces aren't very subtle. In fact, if you flip through one of your old yearbooks, you're bound to come across several faces awkwardly grinning with bracket- and wire-filled smiles. But did you know that the color of the rubber bands that you wear on your brackets can actually accentuate the color of your teeth, thereby improving the appearance of your smile? Here's more about how this works, along with which colors you should consider and a few that you should avoid.
Colors That Can Accentuate White Teeth
Throughout your braces journey, you'll be required to visit your orthodontist every so often for check-ins. These appointments allow your provider to inspect your mouth for any signs of damage or concern with your braces, as well as to let them make any necessary adjustments. This includes swapping out the elastic bands that fit around the brackets. When they do this, you'll have the option to select a new color if you'd like, meaning that you aren't locked into just one color for your entire treatment.
That said, if you're wondering if it's possible to make your teeth appear whiter throughout your braces journey, you're in luck. Here are some rubber band colors that can help with this:
Darker shades of blue, like royal and navy.
Shades of purple including violet and indigo.
Black (due to the amount of contrast).
Clear or silver, especially if your teeth have a yellowish tint to them.
Colors You Should Consider Avoiding
Even though you'll have a vast range of colors to choose from, it's worth mentioning that not every color will benefit the appearance of your smile. One color that you should steer clear of is white; these rubber bands can make your teeth appear darker in color since they'll naturally become discolored over time. Similarly, warm, bright colors like orange, yellow, gold and more can all make your teeth seem slightly stained. It's also worth mentioning that darker shades of green or brown should be avoided too, as they might look similar to food debris that's stuck in your braces.
These days, braces are quite customizable in the sense that you can select virtually any color you'd like to sport on your brackets! That said, why not consider using the opportunity to make your pearly whites look their best while they undergo their orthodontic journey?
About the Practice
Our team here at Simply Orthodontics Webster strives to provide an exceptional level of care for patients and families in the Webster, MA community. We offer a wide range of orthodontic treatment options including traditional braces to help you and your loved ones achieve the straightest, healthiest smile possible. If you have any questions or concerns about the blog or you'd like to arrange an appointment, feel free to contact us today for more information! Telephone: (508) 943-2100.