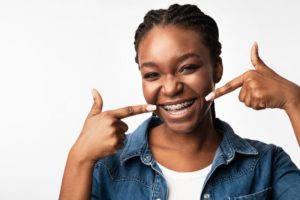 From how you eat to how you floss to how you go about your daily life, braces in Webster will come with some adjustments to your daily life! Fortunately, these changes will be relatively easy to tackle, and in the end, your straighter, healthier, and more beautiful smile will be well-worth the extra effort in the end! But in the meantime, what can you do to make the process easier? Fortunately, there are tons of things that can help make your journey towards a straighter smile more fun and more convenient! Here are 10 products that can help make having braces better than ever.
1.) Cookbook for Braces
With a braces cookbook, you won't run out of ideas for foods to enjoy that won't hurt your brackets and wires! From holiday meals to everyday snacks, you'll be prepared.
2.) Water Flosser
Many orthodontic patients highly recommend investing in a water flosser. Not only does this tool make it easier to clean between your teeth and braces, but the cool splash of water eases some of the soreness that naturally comes with straightening teeth.
3.) Orthodontic Toothbrush
Did you know some toothbrushes are specifically designed to be used with braces? Their unique designs make it easier to reach between wires and brackets.
4.) Electric Toothbrush
Another good toothbrush option is an electric toothbrush. These brushes have sensors and timers that can help you make the most out of brushing, and some studies suggest that they're better at removing plaque and bacteria than manual toothbrushes!
5.) ACT Braces Care Mouthwash
This specialized mouthwash is dual-purpose and specialized for braces. The fluoridated mouthwash cleans away oral bacteria and strengthens the enamel. However, it's also formulated to clean the braces themselves and soothe soft tissue irritation
6.) OrthoFoam Braces Cleaner
This unique product uses a hydrogen peroxide foam to keep your braces and teeth alike healthy and bright! It cleans around your brackets and sanitizes your braces, and provides fresh breath on the go!
7.) Travel Braces Kit
When you have braces, you want to be prepared to clean your smile after every meal, whether you're at home, work, or out with friends. Fortunately, you can either buy or create travel braces kit with floss, toothpaste, a toothbrush, and mouthwash so you'll always be ready!
8.) Ortho Dental Guard for Bruxism
Nightguards are special appliances that protect your teeth from nighttime grinding, but they're not designed to fit over braces! If you have bruxism, you can invest in an ortho dental guard, which is specially designed for teeth grinders with braces.
9.) Reusable Straw
There are a lot of beverages that can cause you problems while wearing braces. However, sipping them through a straw minimizes contact with your teeth and brackets, making them safer to enjoy! Consider getting a cool reusable straw to enjoy your coffee, wine, soda, and other drinks from.
10.) Post-Checkup Lip Balm
Wearing braces can cause your lips to feel dry and chapped more often than usual, especially after your routine checkups. Keeping a high-quality lip balm that you like on hand will ensure that you're always comfortable.
About the Practice
At Simply Orthodontics Webster, we offer a wide range of services for people of all ages. Our team of highly experienced orthodontists can create a braces treatment plan to help you achieve the smile of your dreams as quickly and effectively as possible. What's more, we'll be with you every step of the way to answer your questions and provide personalized recommendations for how to make your treatment more enjoyable. To learn more, we can be contacted online or at (508) 943-2100.