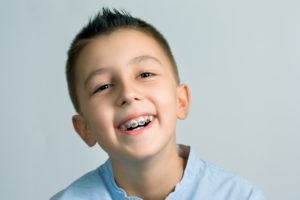 As a parent, you already know that raising children doesn't come with an instruction book! That means it can be difficult to know exactly what your little one needs and when, especially when it comes to braces. Many parents are surprised to learn that experts recommend that children get an orthodontic checkup by the time they're seven years old. While braces and other orthodontic treatments are typically associated with the teenage years, some children may benefit from starting treatment several years beforehand. In fact, in some cases, pediatric orthodontics is the best way to prevent serious complications and permanent damage in the future. Read on to learn more about why you shouldn't postpone your child's orthodontic treatment if they need it!
Small Problems Now Can Lead to Big Issues Later
Your child may still have some of their baby teeth by the time they're seven, but by this stage in their development, your orthodontist will be able to tell a lot about your child's future smile. A children's orthodontist has specialized training in identifying the earliest warning signs of issues. They'll be able to predict if your child needs orthodontic treatment to prevent serious complications in their development before these issues become very apparent.
If needed, pediatric orthodontics can help prevent issues like:
Excess wear and tear on enamel, causing weakened, sensitive, and chipped teeth
Severe bite problems, which can lead to jaw soreness and difficulty eating
Increased risk of oral health issues like tooth decay and gum disease
Changes in how the mouth and facial features grow and develop
Other serious conditions that would require complex, invasive, and expensive treatments
What Are Pediatric Orthodontics?
As its name suggests, pediatric orthodontics are orthodontic treatments that are designed especially for children. In fact, this term refers to a wide range of services that can help growing smiles stay on track, such as headgear, limited braces, retainers, space maintainers, and expansion appliances. Each service is tailored to meet the individual needs of the patient, whether that's guiding the teeth into the proper position as they come in, encouraging the jaw to realign into a better position, or something else entirely. The main goal is to address orthodontic issues as early as possible to prevent major complications later. In addition to correcting issues like crowded teeth and uneven bites, these treatments are also sometimes used to address non-nutritive habits like thumb-sucking that can negatively influence oral development.
Pediatric orthodontics are an excellent way to get on top of serious orthodontic issues right away. Make sure your little one is set up for a healthy, strong smile by not postponing their treatment if they need it!
About the Practice
At Simply Orthodontics Webster, we're proud to help smiles of all ages achieve optimal oral health and a beautiful smile. From adult braces to pediatric orthodontics, our talented and experienced team creates 100% personalized treatments with the latest technology for fast and dependable results. If it's time for your little one's orthodontic checkup, we invite you to come see us to make sure their oral development is on track and how we can help. To learn more about pediatric orthodontics, we can be contacted online or at (508) 943-2100.