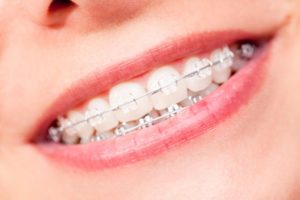 Did you know that orthodontic treatments like braces date all the way back to Ancient Egypt and Greece? It took centuries of changing and advancing for them to become the traditional metal braces we recognize today. But orthodontics didn't stop evolving there! Orthodontists continued to develop treatments to be faster, more effective, and more comfortable. Today, you have several types of modern braces to choose from depending on your unique goals and needs!
How Orthodontic Treatments Work
You know that orthodontic treatments fix crooked teeth, but have you ever considered how? No matter which method you choose, all types of braces follow the same general principles for helping you get a straighter smile. Small, carefully measured amounts of pressure are placed on the teeth in specific areas. Whether this pressure comes from brackets and wires or clear aligners, it gently pushes or pulls teeth into the proper positions.
However, not all types of braces are a good fit for everyone who needs orthodontic treatment. To move the teeth (and keep them in place after treatment), the roots need to be moved as well. Some modern braces only apply enough force to move the roots a little, while others are strong enough to correct even a tooth's height or rotation. Orthodontics are also often paired with elastics to correct bite issues in a similar fashion, but again, not all types of braces can provide this treatment.
Types of Modern Braces
Aside from traditional braces, modern orthodontics include:
Clear braces: These clear aligners (such as Invisalign) are designed to fit over the teeth like a mouthguard and shift the teeth in stages.
Self-ligating braces: As their name implies, these braces remove the need for very frequent checkups by slowly tightening themselves over time.
Pediatric orthodontics: Children with baby teeth can benefit from early orthodontic treatment to correct little issues that would otherwise interfere with their growth, speech, comfort, and confidence.
Dentofacial Orthopedics: This type of treatment is designed to help growing children prevent serious developmental issues in the jaw and facial bones later in life.
Adult orthodontics: Any type of braces can be tailored to help adults correct crooked teeth and bite issues.
Benefits of a Straighter Smile
Getting a straighter smile is about more than just looks. Correcting orthodontic issues offers a wide variety of benefits that can potentially impact every aspect of your life! Straight teeth are less likely to be damaged, and aligned bites are unlikely to lead to TMJ disorder. It will also be easier to maintain great oral health, which not only lowers your chances of tooth decay and gum disease, but can boost your overall health. On top of all this, countless researchers report that people with straighter teeth are more likely to go on a second date, get hired, earn a promotion, and feel more confident!
About the Practice
At Simply Orthodontics, we're proud to help the smiles of Webster and the surrounding communities achieve and maintain a straighter smile. We use the latest and most reliable treatments to provide the best results for patients of all ages. No matter what orthodontic issue you face, our dedicated and experienced team can help you get a straighter, healthier smile. To learn more about modern orthodontics, we can be contacted online or at (508) 943-2100.