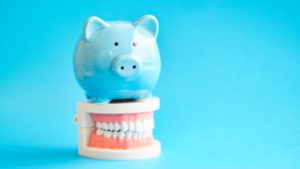 If you have bite issues or very crooked teeth, orthodontic treatment is the best way to get a straighter, healthier smile. However, correcting orthodontic problems is about so much more than looks! Straighter teeth can improve your health and save you money as well! Here are seven ways investing in an orthodontic treatment like braces now can save you money in the long run.
1.) Prevent Tooth Decay
Crooked teeth create small spaces that trap plaque, which leads to tooth decay. While one or two fillings aren't typically very expensive, an increased risk of cavities can become quite costly to treat in the long run. Straighter teeth are much easier to keep clean and cavity-free!
2.) Keep Gum Disease at Bay
Teeth that are misaligned can collect bacteria between them and make flossing much more difficult. This can quickly lead to an infection in the gum tissue known as gum disease, which is a serious oral health condition that can lead to tooth loss. Correcting your crooked teeth will go a long way in preventing gum disease and the expenses that come with treating it.
3.) Protect Against Broken Teeth
When your teeth don't line up properly, they're exposed to much more wear and tear on a daily basis than they should be. Eating, talking and laughing with uneven teeth can wear them down and eventually cause them to chip or break. Adjusting your bite so that your teeth line up correctly ensures that pressure is spaced out evenly in your mouth.
4.) Prevent Weakened Teeth
Misaligned bites create tension in the jaw, which can lead to nightly teeth grinding (bruxism). This condition needs to be treated with a custom nightguard in order to protect the teeth from eroding and fracturing. Orthodontic treatment now can help you save money on nightguards or dental crowns later.
5.) Stop TMJ Disorder
Orthodontic issues also place extra pressure on the jaw joints, which can eventually lead to TMJ disorder. This painful and inhibiting condition typically needs to be corrected with invasive (and sometimes expensive) surgeries. Thankfully, treatments like braces can go a long way in preventing this issue from developing in the first place.
6.) Improved Overall Health
Correcting orthodontic issues is essential for maintaining optimal oral health. Not only is this important for your smile, but it lowers your risk of systemic health conditions and the costs of treating them. In fact, some studies indicate that those with healthier teeth pay less in cardiovascular care costs than those in poor oral health.
7.) Priceless Confidence
Perhaps most importantly, orthodontic treatments have the potential to help you regain priceless self-confidence. You'll feel better about showing off your smile, which will help make you look and feel more confident. In fact, surveys show that straighter teeth are consistently associated with success, wealth, and attractiveness! In the end, you simply can't put a price on the self-esteem you could potentially regain thanks to an orthodontic treatment.
About the Practice
At Simply Orthodontics, we believe everyone in Webster and the surrounding communities deserves to have a happy, healthy and beautiful smile. That's why we offer a wide range of orthodontic treatments for all ages, from traditional braces to Invisalign. We even have special offers and flexible payment options to make great oral health as accessible as possible. To see just how much money orthodontic treatment can save you in the long run, schedule your consultation by contacting us online or at (508) 943-2100.